Explore The Texts That Tell The Tales
Interviews, Reviews, Histories, Poetries, Graphics:
Taped Rugs Productions Literary Archive Directory
BRAND NEW C-60 CASSETTE RELEASES FROM GOFF III:

Have Shimmy Corrected Here Detailed J.Kranitz Review HERE

The Parallel Choirs Of Hugh Everett III

1914-2014 Same Game New Targets Detailed J.Kranitz Review HERE

Rooster Swing A Hen

New Carpeting For 2014 From Labels Beyond Taped Rugs:

Bare Arms On Public Streets by Goff III
New Cassette/CDR Release From Kassette Kult Label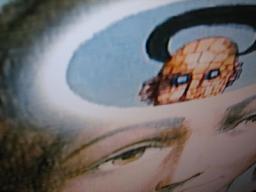 Fleshy Fuliform Vilok
Goff Contributes To Jack Hertz Fantastic Planetscapes Tapegerm Project

Shoemaker Levy 9 Commemoration
Goff Contributes To Aural Films Shoemaker Levy Comet Celebration

QRD - The Guitarists
Goff Contributes To QRD Experimental Guitar Showcase

London Dada Takes On Cameron's Bloody Bombings
There's Lots Of New Taped Rugs To Shake For 2014:

The Nonfiction Of Glarmen Glamours
Thirty Minutes Of Art Rock Experimentation
Goff Delivers Six New Dream-Inspired Avant Songs
Available As Cassette, CDR, Download, Stream

Spots Of Spurious Rot
Basement Of Extra Power's 2nd Album
LaGrega, McGinty, And Goff Bring Bass To Space
Detailed J.Kranitz Review HERE

Organic Matter In The Midst Of Space
Goff And LaGrega Steer Their Enterprise Beyond Antares
Detailed J.Kranitz Review HERE

Reel Trills
Disism's Previously Unreleased 1988 Tape Manipulations For WZBC

Spring Tiles Spring Smiles
Goff III Twiddles Vibrators And Twaddles Vocoded Unlanguages

Recording Brainwaves
Chaotic Interworkings Of An Overwound Biological Clock

Basement Of Extra Power PLUS ANIMATED VIDEO: Liquid Assets
Topological Trance Music Featuring Allan McGinty, Michael LaGrega, and C. Goff III
Detailed J.Kranitz Review HERE

Caricature Masquerade
Taped Rugs Out Takes, Collaborations, Soundtracks, Rarities, Etc.
With D.Fuglewicz, Big City Orchestra, Total E.T., M.LaGrega, J.Tyme,
Darlington Pair, Brava Centauri, C.Goff III
Detailed J.Kranitz Review With Links To All Related Projects HERE

Nebula Of Irrationality Seems Eternal
Total E.T. Presents Non Genre Noises, Remixed By Goff III

Woven Interiority
Goff Live Interior Performance Of Solo-Orchestrated Taped Rugs Hits

Self Oiling Relief Valve
Goff Unleashes The Evil Cousin Of Black And Decker Q Tips

Black And Decker Q Tips
Experimental Goff Guitar That Causes Throbbing Phase Shifts In The Brain
Detailed J.Kranitz Review HERE

The Taped Rugs Productions Presents Podcast
Features Themes, Rarities, Experimental Titillations.
Today It's Wrapping 2014 In Rugs.
Click The Human Piston Graphic Below
And Hear A Few Samples Of Taped Rugs SEVENTEEN 2014 Albums

REVEALING INTERVIEWS:
Don Campau Interviews Charles Rice Goff III
In The Living Archive Of Underground Music
Rinus van Alebeek POETICALLY Interviews Goff & Silverman
About The 1990 Herd Of The Ether Space Cassette
Beyond The Confessions Of Hiss For Staalplaat Part 1 Part 2
Bryan Baker Probes PINK WOODEN BODIES
In Gajoob Magazine
Goff III Tells QRD Magazine (Silber Records)
About Playing Guitar With Arrowheads And Vibrators:
READ: The A-Z Of Goff III Guitar
New 2014 Book (True Age Media) - 10 Cassette Culture Artists
Discuss The 1980's Underground Music Network :
READ: Grindstone Redux

Performance Recording Performance Recording:
Charles Rice Goff III Live From The Taped Rugs Studio
Six Videos: A Space Lounge Ritual Extravaganza...
The "LO FINEST" Net Radio Show
Is Dedicated To The Appreciation Of The Cassette Culture Of The Eighties And Nineties
Hosted Since 2005 By C. Goff III, Courtesy of Aural Innovations
Now Playing:
Lo Finest #32 featuring...
Dave Fuglewicz, Captain Mission, Walls Of Genius, Linda Smith,
Ryan J. Boyd, Vraxoin, Jack Hertz, Ken Clinger, Introspectral, More...
Links To Other Intriguing Labels, Artists, Places, People Electronically Mail Taped Rugs A Message